Exploring New Horizons with the 'escent Academy
In September, 'escent marked a significant step forward by launching the latest edition of 'escent Academy, a specialized program designed for young individuals entering the consulting world. This 7th edition warmly welcomes six new talents. Our program focused on providing them with essential training, guidance, and connections required to excel in consulting services.
Building both knowledge and confidence is our mission
During these intensive two-week training sessions, our dedicated 'escent mentors are committed to sharing their extensive knowledge. They shared their view of proficiency in Business and Functional Analysis services.
Our mission is clear: to equip our participants with the tools they need to thrive in this dynamic digital industry.
Understanding that entering the business world can be both exciting and challenging, our program aims to create a harmonious blend of contextualized training and the development of social connections. We seek to instill a sense of ease and confidence in talents as they navigate their new professional environment and prepare for client engagements in digital transformation projects.
Our commitment doesn't end with training
At 'escent, we believe in providing ongoing support as recruits transition into their consulting roles. Our mentors are available to guide them through their initial professional assignments, ensuring that their services for client teams are seamless and productive.
Welcoming New Talents
As we launch this new edition of 'escent Academy, we're thrilled to extend a warm welcome to Djalil, François, Gabriel, Guillaume, Hélène, Marwan, Maxence, Sarah, and Pierre. Your presence enriches our 'escent family and adds fresh perspectives to our Business and Functional Analysis team.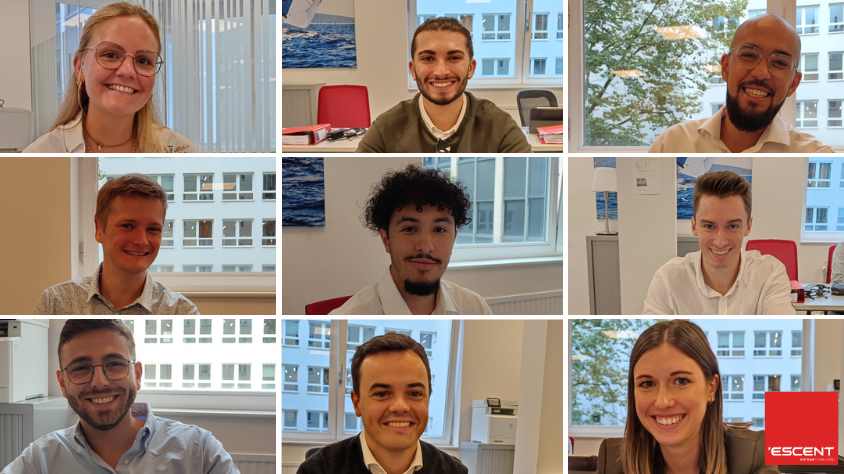 The 'escent Academy is more than just a program; it's an opportunity to join a dynamic community passionate about making a difference. We're excited to witness the impact that you, our new talents, will make as you tackle business challenges and opportunities that lie ahead.
Embracing the Future of Digital Transformation
Together, we're embarking on a journey that transcends individual growth. With 'escent's reputation for delivering top-notch Business Analysis (BA) and Functional Analysis (FA) services, we're prepared to explore a future characterized by lasting innovation.
Ready to make a lasting impact ?
Are you ready to make a lasting impact? Join us as we shape the future, make a lasting impact, and embrace the world of digital transformation!
Warm regards,
The 'escent Softeam Group